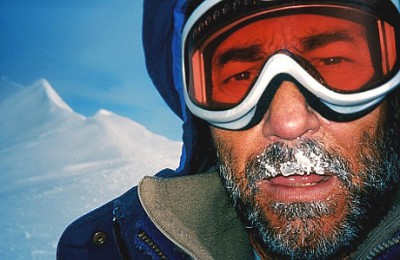 Muhammed Gafić is one of the most famous Bosnian mountaineers of all time. His long journey began from the Mountain of Romanija, near Sarajevo
Muhammed welcomes us to his house in Bistrik, one of the older neighbourhoods in Sarajevo. The house is built into one of the narrowest and steepest roads in the city, an ideal visiting card for the character we are about to meet.
Muhammed, one of the most reputed Bosnian mountaineers, is currently the Director of Sarajevo's Mountaineering School. His huge experience includes the most important quests in Bosnian mountaineering from Prenj to the Alps, as well as the Matterhorn, Mt.Blanc, the Caucasus, McKinley, Tien Shan, Pamir, Gasherbrum and an expedition to Everest to the north terrace at over 7000m.
With his refined ways of a gentleman from the peaks "Gafa", as he is known, tells us the history of Romanija and how generations of mountaineers grew up on these rock faces to then launch themselves into more ambitious mountaineering adventures.
A talk with Gafa is like taking a stroll through Bosnian mountaineering history, reminding us that Bosnia and Herzegovina is a land of mountaineers and climbers who have been continuing through sacrifice and up against lack of support, to bring Bosnian mountaineering back to how it was before the war.
One of the big achievements is the Sarajevo Mountaineering School, which represents the main mountaineering course organised by the Planinarski Savez BIH (BiH Mountaineering Association) in Bosnia and Herzegovina. Its first mountaineering courses started back in 1972 and were run for a long time by Rašid Mulahusić "Mišo". Muhammed Gafić has been director for four years now.
Gafa, what is the history of Romanija?
Romanija is particularly important. On the South face we can find an area for climbing which is of great significance in the history of Bosnian mountaineering. The first mountain ascents in Bosnia were in fact on Romanija in 1929, when the Bosnian mountaineer pioneers Vojo Ilić and Drago Šefer climbed one of the first routes. However, no markings were left of this route.
After them, many mountaineers put themselves to the test on the Romanija faces. Amongst them were important names like Drago Entraut, Muhammed Buturović and Faruk Zahirović who opened probably one of the most difficult routes of the time, "Eleganti", which still put today's climbers to test mainly due to the difficulty in placing protection.
Then came Naim Logić, Mukrim Sisić, Milan Gvozderac, Mehmed Pijanić, Alija Vatrenjak, Slobodan Zalica, Edin Durmo, Jure Milijak and many others who in more recent times gave a great deal to traditional and sport climbing on Romanija.
I would also like to mention the "Zijina Ljuska" route opened by Zija Jajatović and Rašid Mulahusić in 1969. This route is of particular importance to me, as Zijah Jajatović was my mountaineering instructor and perished in the Lupoglav tragedy along with Ilija Diber and Milorad Stjepanović, two mountaineers from Zenica.
And your own routes?
Well, apart from "Sunčani stump", a 70m route of 6th grade less which I opened in 1987, I like to remember the "Praznički" route, another 6th grade which I opened in 1982 together with Branislav Jovanović which has yet to be repeated. As well as these, I've repeated several classic routes free-soloing, such as "Centralni Smjer", "Okomiti", "Zub" and "Kamin".
By free-soloing I gained more self confidence, and started to climb leading rather than following. I also started out on Penj and the Romanija and then in 1971, at the age of 23, I went up the Matterhorn and from 1974 I took part in the selection for the Yugoslavian expedition to the Caucasus... It all began from there.
What has the Romanija represented for you?
For us Romanija has been hugely important for mountaineering preparation, not only for climbers from Bosnia and Herzegovina but also from other parts of Yugoslavia, considering that climbers from Vojvodina came here to train for expeditions.
It was from here that Bosnian mountaineers then set off for other important mountains such as the Matterhorn, the Grandes Jorasses, Mt. Blanc... The refuge of Slaviša Vajner Čiča was an important focal point in these activities.
Our best memories are linked to that refuge... We slept there, practised knots there,held courses and met together. All sorts of other people came there to give us a hand,to bring food or material and to pass memorable moments together.It is a great shame it was destroyed especially as it was done for no real reason.However we started to return to Romanija after the war and we either use a friend's weekend house or camp out for a base and we always manage to hold some part of the course on the Romanija rockface and we at least cover the essential aspects there.
And your relationship to Sports climbing?
Parts of the Romanija have been bolted by Edin Durmo for sport climbing, and recently some climbers such as Paolo Pezzolato and Roberto Ferrante have rebolted some routes and opened other considerably difficult ones.
The relationship between sport climbing and traditional climbing is always interesting. On one hand sport climbing represents an excellent training for real mountaineering, whereas on the other hand it often seems to me to be a poorer version of mountaineering and lacks the deeper side to traditional climbing... What I mean is that climbers want to park right under the route, climb for an hour or two and then head off to the bar. They don't seem to care much for getting near to the rock, putting in their own protection, they stay away from the more profound and traditional part of mountaineering.
This said though, the relationship between sport and traditional climbing is changing in a very interesting way. Sports climbers are fuelled by competition, the desire to come first and win. Here, there's only one champion and then those who haven't won despite being excellent mountaineers. Such excellent mountaineers then tend to go back to traditional mountaineering, increasing the difficulty level and therefore improving performance. This is currently happening amongst our young mountaineers who have moved away from sport climbing and come back to traditional mountaineering and classic expeditions. From these I would like to mention Fedja Vilić, Armin "Mučak" Gazić and Salih Mulaosmanović who are carrying on a mountaineering family tradition.
What have you got out of mountaineering after a lifetime of climbing?
Mountaineering has taught me to have trust in myself, and to understand what I know and what I don't know about myself. Thanks to my wife's support I realised that I needed to study more, and mountaineering helped me finish my studies. Mountaineering also gave me the strength to get through hard times like the war, and to rediscover both vitality and spirit once it was over. In those particularly arduous times that we had to live through, mountaineering was of a great comfort and support and a real help in starting out again.
The doorbell rings, the "ćevapi" have arrived. As our almost two hour conversation draws to a close, we are feeling hungry and Gafa, a good "domaćin", does all he can to make his guests feel at home.
I commenti, nel limite del possibile, vengono vagliati dal nostro staff prima di essere resi pubblici. Il tempo necessario per questa operazione può essere variabile. Vai alla nostra policy