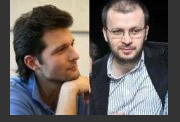 Emin Milli and Adnan Hajizada have been recently detained in Azerbaijan because of apparently groundless accusations. Despite inquiries to the local authorities by foreign embassies in Baku, they are still being held in jail
Recently, youth movements and youth activists have become an active force for change in Azerbaijan. Without staging protests and getting beaten by the police, as happens in undemocratic and authoritarian regimes, they have used cleverer techniques. This generation uses online tools such as Facebook, Twitter and YouTube to tell the world of the bitter realities existing in their countries. Similar work has been carried by Baku- based youth activists such as 30-year-old Emin Milli (Abdullayev), founder of AN Network, and 26-year-old Adnan Hajizada, founder of Ol youth movement. They are currently paying a very high price for their activism, as both were arrested last week and are held at the detention facility outside of the capital Baku.
On the evening of 8 July, while having dinner at a downtown restaurant 'Lebanese', Emin Milli and Adnan Hajizada were arrested on charges of hooliganism and detained as suspicious characters. Following a 48 hour detention, they were sentenced to two months of pre-trial detention by the Sabayil District Court in what international and local human rights observers reported as a closed-door hearing.
Police claim they responded to "assault-inflicted injuries" on Babak Huseynov and Vusal Mammadov (who are nowhere to be seen or found since the alleged attack). According to the same statement, the so-called victims were "trying to restore order in a restaurant" where Emin and Adnan started a fight. Stronger accusation came with the next statement issued on 11 July by the Ministry of Internal Affairs that accused Hajizada and Milli of inappropriate behaviour due to their alcoholic condition: "We inform you that at around 6 pm on 8 July 2009, Adnan Hajizada, Emin Abdullayev and five other people committed an aggressive act of hooliganism in a condition of alcoholic inebriation by violently attacking Vusal Mammadov." However, a visit to a local hospital, where Vusal Mammadov was supposedly treated, showed no such records; in fact, no one under that name ever checked in.
The attack, how it really happened
Contrary to official statements, an eyewitness (whose statement police refused to take) reported that Adnan and Emin were having dinner with five other friends. They were talking about politics when one of the two well-built men sitting at the next table approached their table and hit Emin. While trying to help Emin, Adnan also received several hits. As a result, Adnan's nose was broken and Emin had other physical injuries. Upon their arrival at the police station, both activists were denied any medical help or attorneys of their choice during the first interrogation, even though their own lawyer, Isakhan Asurov, was waiting outside of the police station.
The follow- up and the reaction
The reaction to the arrests was overwhelming but also not surprising given both Adnan and Emin are believed to reach over 10,000 Internet users in Azerbaijan and elsewhere. Emin Milli is also known for his critical speeches protesting the Azerbaijani government's restrictions on basic freedoms and rights and most recently the March referendum. Milli was already detained during the 10 May protest against the celebration of , only 10 days after the bloody attack at the State Oil Academy. However, he was released on the same day with no further charges.
"Freedom to Emin Milli and Adnan Hajizada" were only some of the emotional slogans, posted on Facebook and Twitter. A number of support groups on Facebook gave detailed account of the events. Articles on the arrests soon began to appear on the international media including the New York Times, the Washington Post, France 24, Der Standard, Le Figaro, and Challenges.
There was also strong international criticism. The OSCE, foreign embassies and representatives from international institutions observed the whole process. Gunter Nooke, German ombudsman, who was visiting Baku during those days, and for whom Emin was supposed to translate during his visit, was unable to enter the court on the day the hearing was held. In his later press statement, he said that the arrests might negatively affect German- Azerbaijani relations.
Strong international involvement was deemed unnecessary by the government of Azerbaijan. The Ministry of Internal Affairs released a new statement on 14 July 2009, "We call on foreign embassies to stop misusing their power by interfering with internal issues of the receiving country." An official from the US Embassy, Dmitri Tarachovski, responded, "I don't see our statement as interfering... Yes, we are concerned about the arrest of these young people... We receive information, which contradicted the official information issued about the arrest."
On Monday, 13 July, Adnan celebrated his 26th birthday at the facility where he is currently held. Currently, only their lawyers can visit the victims. A close friend, who took food on Monday to the prison, had to bribe police officers working at the facility to pass along food and letters of support written to Adnan and Emin. The police officer refused at first to take the letters and books and said, "20 manat is too little ... Why don't you call the guy who is standing outside and ask him for more money."
Mutual friends in Baku say there is much frustration, anger and little hope that the boys will be released soon.
I commenti, nel limite del possibile, vengono vagliati dal nostro staff prima di essere resi pubblici. Il tempo necessario per questa operazione può essere variabile. Vai alla nostra policy