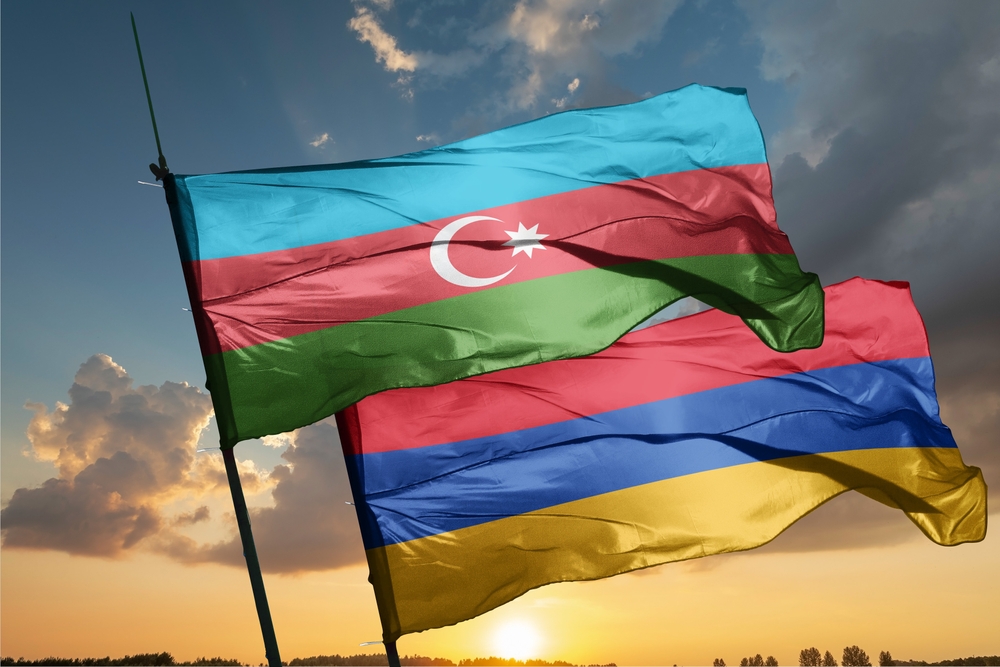 Hopes and tension at Munich Security Conference as Armenian and Azerbaijan leaders meet to discuss a peace treaty. The initial optimism for the historic meeting soon gave way to unresolved tensions between Pashinyan and Aliyev
By some accounts it was a historic occasion. On 18 February, during the annual Munich Security Conference in Germany, the Armenian, Azerbaijani, and Georgian leaders shared the same stage for the first time since the former Soviet Union collapsed. The panel, "Moving Mountains: How to ensure security in the South Caucasus," also included OSCE Secretary General Helga Scmid.
On the eve of the discussion, however, the name of Armenian Prime Minister Nikol Pashinyan was noticeably absent. While some tweeted their abhorrence at this omission, others instead sighed in relief given that the last time he shared a stage with Azerbaijani President Ilham Aliyev at the same event in 2020, the discussion quickly descended into bickering and mutual accusation.
"Never do this again," tweeted International Crisis Group (ICG) Senior Analyst Olesya Vartanyan at the time.
But do it again they did, albeit in an extended format and even if Pashinyan's presence came as a last minute surprise to everyone.
"His name was not mentioned in the initial proposal given to me," Aliyev told reporters. "He probably decided to attend last night. I think this is a good development because, finally, some cooperation among the three South Caucasus countries can be started."
The Azerbaijani President also told media that the idea of establishing a regional format in Tbilisi could be discussed, echoing similar comments from EU Special Representative for the South Caucasus and the Crisis in Georgia, Toivo Klaar, 10 days earlier.
"It is very important that the three countries of the South Caucasus work together and contribute to peace," Klaar said in an interview with the Georgian Public Broadcaster. "And here the role of Georgia as a bridge between Armenia and Azerbaijan is very important."
Despite trepidation at how the panel would turn out, there were also even more positive signs.
Just hours before the panel discussion, U.S. Secretary of State Antony Blinken had facilitated a trilateral meeting between the Armenian and Azerbaijani leaders on the sidelines of the conference. Accompanying them were Armenian Security Council Secretary Armen Grigoryan, Foreign Minister Ararat Mirzoyan, his counterpart Jeyhun Baramov, and Azerbaijani Presidential Advisor Hikmet Hajiyev.
In essence, the three main officials involved in the Armenian-Azerbaijani negotiation processes were present in one room. Accompanying the U.S. Secretary of State were also Assistant Secretary of State Karen Donfried and the newly appointed Senior Advisor for Caucasus Negotiations, Louis L. Bono.
"We believe that Armenia and Azerbaijan have a genuinely historic opportunity to secure enduring peace after more than 30 years of conflict," Blinken told media in an address before the meeting continued behind closed doors.
This too was arguably a historic occasion. It was the first time that the Biden Administration had managed to gather the Armenian and Azerbaijan leaders together. Last year, Blinken had only convened a meeting of the two foreign ministers while U.S. National Security Advisor Jake Sullivan had brought together Armen Grigoryan and Hikmet Hajiyev in Washington D.C..
Aliyev described the talks as constructive and also confirmed that Baku had received Yerevan's latest comments and suggestions on the text of a possible bilateral peace treaty, but it was clear that differences remain.
"At first glance, there is progress in Armenia's position, but it is not sufficient," Aliyev said. He also announced that during the meeting he had proposed Yerevan set up border checks on a still yet-to-be-opened route connecting Azerbaijan via Armenia to its exclave of Nakhichevan. In turn, Baku would introduce its own checkpoints on the Lachin Corridor connecting Armenia to Karabakh through Azerbaijan.
Referred to in Azerbaijani circles as the "Zangezur Corridor," disagreement over how the Nakhichevan route would operate has been a major sticking point in the negotiation process for at least a year. It is also one of the possible reasons for the current impasse on the Lachin Corridor where self-proclaimed Azerbaijani 'eco-activists' have restricted traffic in what can be considered a partial blockade.
For over two months, vehicles from the Russian peacekeeping forces and the International Committee of the Red Cross (ICRC) can travel on the Lachin Corridor or transport humanitarian assistance to the ethnic Armenian population of Karabakh. This was naturally brought up in the meeting with Blinken.
"Nikol Pashinyan stressed the fact of the illegal blockade of Lachin corridor by Azerbaijan and the resulting humanitarian, environmental and energy crisis in Nagorno Karabakh," an official Armenian statement read, though also ending on a positive note. "The continuity of the peace process between Armenia and Azerbaijan was highlighted."
But despite what appeared to be further commitment to that process, the mood deteriorated in the panel discussion that followed soon after even if opening remarks from Aliyev were encouraging.
"We had our own war two years ago, which lasted 44 days," he stated. "We know what tragedy war brings to people. Azerbaijan and Armenia must demonstrate how important peace is. We are currently working on a peace agreement. And this can be a good example of how making peace can end the grief and tragedies of conflicts."
But rather than build on that to explore the possibilities of regional peace, stability, and security, questions from the moderator, Munich Security Conference chair Christoph Heusgen, saw the mood between Aliyev and Pashinyan quickly deteriorate, leaving the Georgian Prime Minister, Irakli Garibashvili, uncomfortably sandwiched in-between. Lachin, of course, was the issue.
"The continuation of the crisis may cause irreversible humanitarian consequences for the Armenians of Nagorno-Karabakh," Pashinyan charged, referring to the long-running standoff. In response, Aliyev demanded that the term "Nagorno Karabakh" no longer be used in international circles.
Pashinyan countered that the term was in the November 2020 ceasefire statement and also that the Lachin Corridor was had not been put under Azerbaijan's control.
But in a bewildering turn, Pashinyan then referred to Baku's claims that dozens of mosques had been destroyed by Armenian forces during the nearly three decades it effectively controlled seven adjacent regions to the former Nagorno Karabakh Autonomous Oblast (NKAO). Those territories were returned to Baku after the 2020 war, but Aliyev had not raised the issue of mosques during the panel.
"It seems that Azerbaijan is trying to give this whole situation a religious context. But there is no religious context to this conflict. There is a Muslim minority in Armenia, and we have a functioning mosque," claimed Pashinyan, presumably referring to the tiny remnants of what remains of Armenia's Muslim Kurdish community and the Blue Mosque in central Yerevan.
Nonetheless, Pashinyan attempted to end on a more constructive note.
"We have a very complicated history," he said. "And this is also a historical meeting, but for what purpose do we want to use it? To stir up intolerance, hatred, aggressive rhetoric? Or, on the contrary, use this platform to improve the situation?"
Aliyev too, in a response to a question from the audience, also reiterated Baku's commitment to the Brussel Process of peace talks with Yerevan as facilitated by European Council President Charles Michel. However, he nonetheless had also earlier justified the devastating 2020 war that saw over 6,000 people killed.
"Peace negotiations sometimes take too long. Ours lasted 28 years. This suited Armenia and its supporters, who wanted to continue the occupation of our lands," he said, also referring to the November 2020 ceasefire statement that ended the war the same year as 'an act of capitulation,' angering Armenians watching.
Despite technical problems with the livestream, what could have proven a constructive and historic opportunity for the three leaders in the South Caucasus to discuss regional cooperation and security, the panel instead laid bear the divisions and disparate positions that have afflicted the region for over thirty years.
Nonetheless, U.S. Secretary of State Antony Blinken remained positive about his own meeting with the Armenian and Azerbaijani leaders. "Pleased to hear that the Armenia-Azerbaijan peace process is on track and negotiations between the two sides are continuing," he tweeted the next day, almost as if the more contentious panel discussion had never taken place.
In a press briefing on 22 February, U.S. State Department Spokesperson Ned Price also sounded upbeat and told reporters that the Armenian and Azerbaijani "parties come together in Brussels in the coming days in the talks hosted by President Michel of the EU. […] there has been significant progress that we've taken note of. We are going to do everything we can to see that progress continue".
I commenti, nel limite del possibile, vengono vagliati dal nostro staff prima di essere resi pubblici. Il tempo necessario per questa operazione può essere variabile. Vai alla nostra policy
blog comments powered by