18 September 2020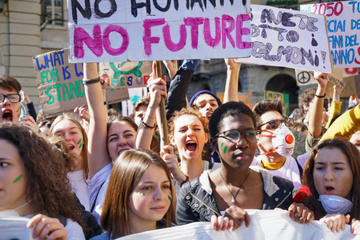 The research project "Transnational Political Contention in Europe (TraPoCo)", supported by the European Commission and dedicated to the study of trans-European political activism, is underway. The focus will be on the role of movements, non-governmental organisations, activists, and trade unions in strenghtening the space of rights and democracy in Europe
On September 1st, the research project "Transnational Political Contention in Europe (TraPoCo) " started. Supported by the European Commission under the Jean Monnet action of the Erasmus+ programme, the project will last 36 months.
The consortium, led by the Scuola Normale Superiore di Pisa with Professor Donatella Della Porta, comprises OBC Transeuropa – operational unit of Trento's Centre for international cooperation , the University of Belgrade , University College Dublin , Boku University-Vienna , NGO The Good Lobby , and the University of Trento as an associate partner.
The project brings together scholars from different disciplinary areas – including sociology, law, and European studies – with the aim of developing a joint research programme, enriching the teaching offer of partner universities, and promoting dialogue between academia and the rest of society through seminars, an international Summer school, and meetings with political decision-makers at national and European level.
The research work focuses on the role of social actors such as movements, non-governmental organisations, activists, trade unions, etc. in strenghtening the space of rights and democracy in Europe through the study of the different forms of collective action they employ (protests, advocacy, legal activism) to promote their claims and exert pressure on national governments and European institutions.
As shown by the youth movements involved in Fridays for future for climate justice, or the anti-discrimination wave generated by BlackLivesMatter, or the many global issues related to work, environment, and migration raised by the pandemic and its consequences, these are supranational issues and challenges, and the related collective actions can only be carried out at a transnational level.
"There is a growing number of protagonists of local civil societies who are able to make their voices heard also at European level, and in a moment of crisis and emergency like the present one their contribution has great public relevance and particular political urgency" – stresses Luisa Chiodi, director of the OBC Transeuropa operational unit. "Thanks to this new project we will cover highly topical issues – environment, anti-discrimination, migration – on which there is a push from below and we will analyse the impact these transnational mobilisations can have on the future of European project".
For twenty years OBC Transeuropa has been active in connecting and supporting the civil societies of many Eastern European countries, often protagonists of the rebirth of entire societies that have emerged from conflicts, divisions, and violence. This path has made this think tank based in Trento a point of reference for numerous international projects, including for example Edjnet on data journalism on European affairs or MFRR on media freedom in Europe. The recent collaboration with the Scuola Normale Superiore of Pisa strengthens this path by adding new, prestigious collaborations to the work and international scope of OBC Transeuropa.
The European Commission's support for the production of this publication does not constitute an endorsement of the contents, which reflect the views only of the authors, and the Commission cannot be held responsible for any use which may be made of the information contained therein. The project's page Trapoco