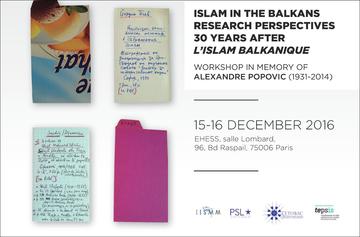 Current and prospective paths for researching Islam in Southeast Europe and the legacy of Alexandre Popovic in this field are the focus of the new podcast in the series The SouthEast passage
Update Required
To play the media you will need to either update your browser to a recent version or update your
Flash plugin
.
The workshop "Islam in the Balkans ", held at the École des hautes études en sciences sociales (EHESS) in Paris in December 2016 was dedicated to the memory of Alexandre Popovic (1931-2014), "Sasha" for his colleagues and friends.
The conference gathered twenty-two scholars organised in four panels and a roundtable. In this episode, Andreas Guidi talks to Nathalie Clayer and Fabio Giomi about the topics discussed during the event, the biography and the research of Alexandre Popovic and the current horizons for researching Islam in Southeast Europe, a field that has undergone many turns since the publication of the groundbreaking "L'Islam Balkanique" by Popovic in 1986.
This is an excerpt of a longer episode produce within the series The SouthEast passage. The entire podcast in available for download here .
The Southeast Passage is a podcast about the history and the society of the Balkans and beyond. Researchers from various countries present their ongoing projects and discuss about the relevance of their topics inside and outside academia.
While Osservatorio does not control the information/materials posted by users, it reserves the right (which it may exercise at its sole discretion without notice) to read messages before publication and delete, move or edit them. The time necessary for this operation is variable. See our policy
blog comments powered by